Are you looking for flexible ways to generate sustainable income? Does the idea of positively impacting people and helping them succeed interest you? If you have a passion for working with students and making them expand their scholastic potential, online coaching is an ideal business for you.
To deliver with agility is an art that you must master in order to gain a leading edge in the digital world. When we particularly talk about online coaching, delivering the best is no more limited to imparting quality education alone, the mode of delivery and the platform you choose to connect with students influence the overall coaching experience.
In this blog post, I will help you gain insights into the essential factors to consider before launching a successful online coaching business.
Why Should You Choose Online Coaching and Mentoring Business
As most of the coaches are drifting towards online models to significantly expand their target market, choosing an online coaching business has become a necessity nowadays. It enables you to seamlessly connect and provide coaching to students worldwide even during the pandemic.
eCoaching is an excellent business model that enables you to register coaches and provide online coaching classes to thousands of students as opposed to a limited few in case of traditional coaching sessions. Plus, there are no time constraints as students can select coaching sessions as per their availability.
"Going digital surely pay dividends to keep the business afloat & generate revenue by offering coaching sessions to multiple students online."
Business Model
An online coaching marketplace connects students with potential coaches in a 1-on-1 live session. Amid the pandemic as most schools and educational institutes are shut, the eCoaching platform is the perfect setup to simulate a real-life learning environment. The marketplace offers detailed information like coaching expertise, ratings & reviews, and more to help students find the right coach.
The working model for the eCoaching business is pretty simple and similar to an eLearning platform.
The student will sign-up on the platform.

Create a learner account.

Search from the listed coaching experts and send a session booking request.

Make a payment.

Receive a booking confirmation.
Coaches follow a similar process with sign-up or registration
Coach profile creation.

Profile is listed post admin approval.

Receive a session booking request.

Accept or reject the request as per the availability.
The online coaching session starts at a specified time agreed by both parties (i.e. student and coach).
P.S. The admin receives payment before the coaching session begins but transfers it to the coach's wallet once the session is successfully completed and after deducting the commission fee.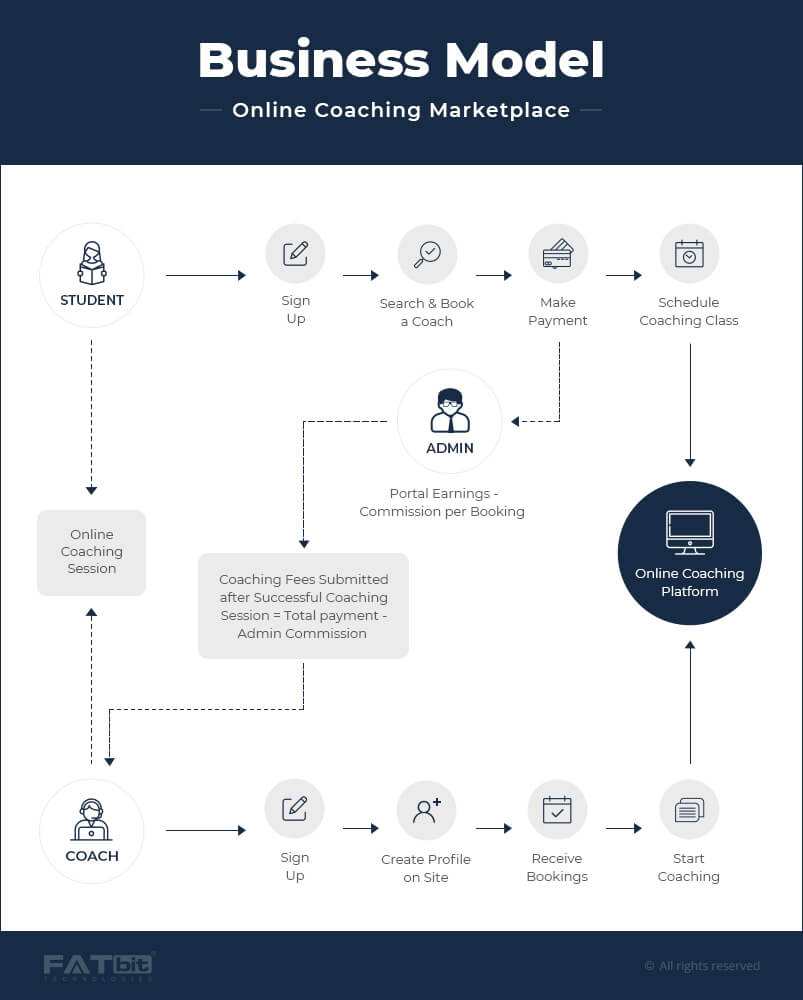 Revenue Model
No business can survive without a revenue generation channel and the eCoaching platform is no different. Below we've curated the most lucrative sources of revenue for online coaching business:
Booking a coaching session is the foremost revenue channel for the eCoaching marketplace. Once students make payment for the desired coaching session, the transaction fee minus the admin commission goes to the selected coach after the session is successfully delivered.
Commission fee per booking
As students make a payment for booking a coaching session, a nominal commission fee is charged. This commission fee is a direct revenue source for the marketplace admin and is decided by the admin beforehand.
On-site promotion for tutors
With homepage banner, premium listings, and additional spaces for running a PPC campaign, on-site promotion for tutors is another prominent yet lucrative revenue channel for the marketplace. Tutors looking for more students to coach and earn would likely invest to improve their visibility.
Students can avail access to classes on the marketplace with a monthly subscription plan. The fee for different subscription packages and how to distribute earned money among tutors is decided by the admin beforehand.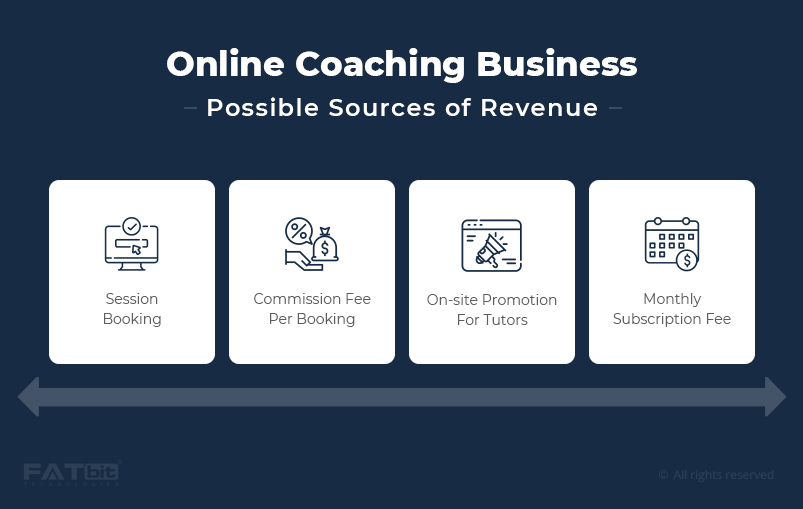 Essential Features for Every
Online Coaching and Mentoring Platform
To revolutionize the coaching experience and effectively streamline your mentoring practices, raising the pre-defined standards of teaching is essential. Here are some of the features that can make your online coaching platform more accessible and trusted among the users:
By empowering users (teachers or learners) to set their country as well as time zones manually, every user gets notified for any lectures scheduled by other users in a different time zone. It simplifies the process of class schedule on your online coaching platform.
By showcasing the content in multiple languages on your online coaching platform, you can empower students to easily achieve their learning objectives. Additionally, a filter can be included to list teachers based on the language they may communicate in with the student.
If there are paid courses available on your online coaching platform, you need to provide a convenient method that enables the students to pay for those specific courses.
The online coaching portal you choose to launch your website must be integrated with an advanced tool such as CometChat that enables live video chat sessions between the teacher and students.
Using workspace, the teachers can easily upload files related to the course and the students are given access to download those files from the Workspace.
A whiteboard allows the users to effectively edit documents, save revisions, export files, and more. The whiteboard feature brings ease for the teachers and students to keep records and make notes during online sessions.
This feature enables the teacher and the student to seamlessly communicate with each other through text chat during the online lecture. Adding components like text messages interchange, emoticons, special characters, and more is a great idea.
Apart from these, there are a few essential features specific to learners and professionals/coaches. The most notable features for e-learners include - coach listing page (with information like price range and lessons delivered), free trial session, lesson rescheduling, and more. Also, for e-coaches, the most notable features are - availability calendar, price setting (like lesson price or personal student price), teaching tutorials, and more.
Factors to Consider While Launching an Online Coaching Platform
The success of a bespoke online coaching business is based on the learning experience it offers. To provide an effective and real-life coaching environment online, it's important to choose a reliable platform that can host different content formats for addressing the different learning styles of your students. Using a learning platform involving various content & learning modules, communication modules, and evaluation modules can play a pivotal role in creating a high level of interaction that students need.

Key Attractions For Learners

In order to make your online coaching platform succeed, it's necessary to understand the pains, desires, and troubles of the students you wish to cater to. As coaching markets are expanding at an annual rate of 7%, delivering a result that matters to the students you serve is extremely crucial. By searching for user reviews and analyzing their conversations on social media platforms, it becomes easy to offer irresistible solutions to them.

Additional Features For Tutors
As the online coaching platform empowers the tutors to conduct classes online, it relieves them from the real-life hassles of physical classroom teaching. By providing tutors with additional features like teaching profile updates, availability calendar, and price setting for lessons, it becomes easy to handle a large number of students effectively. This further saves time and effort of the tutors thereby uplifting their productivity.
Strategies To Scale Your Online Coaching Business
As your online coaching business grows, it becomes difficult to keep up with the users' (learners or teachers) demands and expectations. To plan for the future is crucial for the exponential growth of your business and that's where the scope of scaling comes up. Being an effective way to strategically manage the growth of your online coaching business, scaling can prevent you from unsatisfied and unhappy customers. Here's how you should scale your online business:

Since coaches cover the same topic over and over again, their energy levels keep dropping after every few sessions. Group coaching is a prominent feature that retains the energy level by allowing professionals to coach multiple people at once. Moreover, it enables participants to create a deeper connection between themselves forming a community.
Build a membership community
Building a membership community can be an excellent strategy to scale an online coaching business. But be extra careful when approaching this strategy or you may end up managing more people at less price. For instance, instead of starting a community with a membership price as low as $20-$30/month, build a higher-value membership community at $50-$100/month. This way you can easily assign group coaching calls or delegate more tasks to community members, potentially scaling your eCoaching business.

Introduce video lessons or worksheets that are easily accessible
Since coaches' availability depends upon time zone and other key factors, they fail to attract students with time zone differences and other constraints. Such restrictions can potentially weigh down a coaching marketplace from steady growth. Consider introducing video lessons, worksheets, and other materials from coaches that the students can easily access anytime and from any device. This is a splendid option that enables coaches to impact more people within the same platform and scale their revenue source.
Create a unique talk page for coaches to post videos
The coaching niche empowers a professional to bring unique perspectives to the audience. To enable coaches to share their individual perspectives, create a unique talk or speaking page on a platform. This would allow event organizers/organizations to directly contact and reach out to potential speakers through the platform, generating revenue for the marketplace.
Create value-based learning packages
Determining the right price for coaching services can be a bit challenging in the marketplace. Instead of just charging hourly rates for each coaching session, introduce new coaching packages that are based upon value-based learning. For instance, allow coaches to list more value-added services for a higher pricing strategy. This is a predominant method to scale revenue over time.
Conclusion
The online coaching business is a striving and thriving business venture with numerous revenue channels and scaling options. As students/learners look for ways to connect with a professional coach online amid shutdowns, starting an eCoaching business can be a great business idea to invest.